A Salon Owner's Guide to Wealth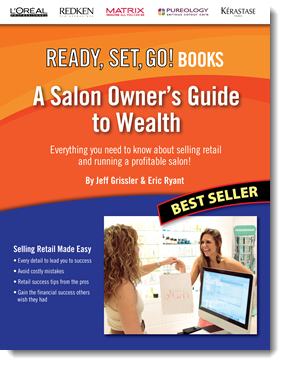 How to Run a Profitable Salon and Make Big Money
With the launch of the Ready, Set, Go! Book series, Jeff Grissler has finally created a new benchmark publication geared to helping Salon Owners build and run a profitable salon. Yes, at L'Oreal we want salons to be on the cutting edge with styles and color but more importantly we want them to make money. RSG books series will now give them the tools to get their salons to the next level. Successful salon ownership, happy employees, wonderful families and friends and of all things a healthy retirement! This series of books is a must read for cosmetologists and salon owners who want to grow their business and make money doing it along the way! Great Book! ~ Patrick Parenty President L'Oreal Professional Products Division, USA
Every detail to lead you to success
Avoid costly mistakes
Retail success tips from the pros
Gain the financial success others wish they had
Do you have dreams of owning a successful retail beauty salon? Ready, Set, Go! will set you on path that will lead you and your salon to financial success by implementing retail sales strategies into your business.
From concept to design to management
Set up your retail like the pros
Fast track retail sales
Retail sales promotions that work
Sell retail in every salon zone
Sell more retail and develop new and consistent income streams by reading, practicing and perfecting the techniques inside.