The Salon Building Bible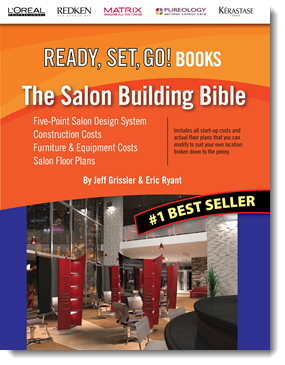 Book endorsed by the Professional Beauty Association (PBA) and Modern Salon magazine.
Includes all start-up costs and actual floor plans that you can modify to suit your own location broken down to the penny. Why make the mistakes other salon owners have in the past? Do you trust your contractor, are you paying to much for salon equipment? Is your contractor over charging you for installation, flooring, lighting, and plumbing? Will you run out of money before you open your salon doors? Follow the easy steps and actual floor plans that break down every expense you will encounter.
Five-Point Salon Design System
Construction Costs
Furniture & Equipment Costs
Salon Floor Plans
Do you have dreams of owning a successful salon? Ready, Set, Go! The Salon Building Bible will set you on a path that will enable you to design a salon that meets your needs and fits your budget.
Best Selling author Jeff Grissler felt that one of the biggest expenses and challenges faced by new owners was floor plans and estimating start-up costs. Therefore, he did what no other book in the industry has done, he provided ready-to-use floor plans and designs from an award-winning salon designer. Each plan details the construction and materials costs, along with the furniture and equipment needs required for each plan. Let Jeff guide you through your salon startup or remodel.
Plan your project based on advice of leading salon design experts and salon owners
Avoid unnecessary costs with architects and designers and get a jump start by using the Ready, Set, Go! five-point designs and advice in this book.
Benefit from step-by-step guidance for designing, building, or remodeling your salon
Know exactly what your start-up costs will be down to the penny
Save money with the years of industry knowledge and tips that are packed into this book
The Salon Building Bible will make your salon dream a reality, while helping you create a design and budget to control costs, keep your project on time, increase your ability to succeed, and generate profits sooner!
Now that Ready, Set, Go! Publishing has enabled you to open the salon of your dreams it's time to incorporate the business systems that will put your salon on the fast track to success. Check out another award winning book by Ready, Set, Go! A Salon Owners Guide To Wealth.