Barbershop Now!
How to Open A Barbershop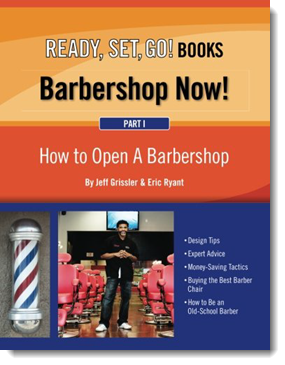 Endorsed by the Professional Beauty Association (PBA) and Modern Salon magazine.
Barbershop Now! will help you earn more money, save more money and invest in a business that lasts. In this book, you'll find the checklists, tips, ideas and strategies you need to achieve your dreams.
Ready, Set, Go! will teach you to:
Select the Right Location for your Barbershop
Negotiate the Best Lease
Design a Barbershop Within Your Budget
Secure Financing
Hire the Right People
Develop Good Working Relationships with Suppliers
And everything Else You Need to Know to Own and Operate a Money-Making Barbershop
This book is a small investment in the health and success of your barbershop and it puts all the resources you need right at your fingertips.
Design Tips
Expert Advice
Money-Saving Tactics
Buying the Best Barber Chair
How to Be an Old-School Barber
Business strategies and old-school barbering meet in this book, showing you the path to success as a barber.
Opening and running a profitable barbershop has never been easier, thanks to the Ready, Set, Go! Barber Book. New and established barbers will find the information and inspiration they need to make the barbershop of their dreams a reality in the pages of this book. Tips from the pros, lessons from industry veterans and detailed price lists will help you build the barbershop you deserve.
The days of the neighborhood barbershop are back, and that means profits for owners and a deeper sense of community for clients.